ASUS India announced the launch of ASUS Transformer AIO in India with a starting price of ₹ 86,999. Asus Transformer AIO is the world first dual OS (Android 4.1 & Windows 8) All-in-One PC with a detachable display that can work as a standalone tablet.
ASUS Transformer AIO PC comes with 3rd generation Intel Core desktop processor and tablet comes with 18.4-inch Display with NVIDIA Tegra 3 Quad-Core processor that runs on Android 4.1 Jelly Bean.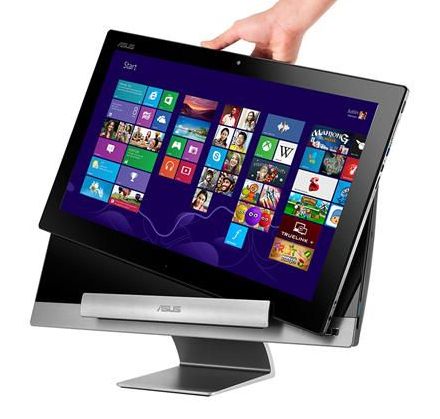 ASUS Transformer AIO gives you the experience of desktop PC and tablet. The device is target at home lifestyle buyers, C-level executives, architects and design studios.
ASUS Transformer AIO display can be detached from the PC station and it can be used as two different types:
First, Wireless Remote Desktop technology with dual-band Wi-Fi provides complete multi-touch control over Windows 8 on the PC Station for easy access to popular productivity and entertainment software around the home. Alternatively, the 18.4-inch display can also be used as a standalone tablet with Android 4.1 Jelly Bean. Both the desktop and tablet mode can be used individually at the same time.
[styled_box title="Vinay Shetty – Country Head – Component Business, ASUS (India)" class="sb_blue"]ASUS is one of world's leading organizations who believe in innovation in technology and ASUS' top priority is to bring such innovative All-in-One products for Indian consumers and we have been diligently working towards success on this front. We feel that this device is an excellent choice for lifestyle buyers and top executives looking for a unique and feature packed AiO, a desktop solution and a large tablet .We are aiming to lead the market in the niche hi-end gaming and entertainment PCs segment[/styled_box]
Specifications:
[table class="table_blue"]
Processor
PC Station: 3rd Generation Intel Core i5-3350P/i3-3220
Tablet: NVIDIA Tegra 3 Quad Core
OS
PC Station: Windows 8 (64 bit)
Tablet: Android 4.1 Jelly Bean
Display
18.4-inch (1920 x 1080) LED-backlit with IPS technology
10-point capacitive multi-touch
Graphics
PC Station: NVIDIA GeForce GT 730M (2 GB)
Camera
1 MP Front-facing
Memory
PC Station
RAM: Up to 4 GB DDR3
Memory: 1 TB SATA Hard Drive
Tablet
RAM: 2 GB DDR3
Internal Storage: 32 GB
Connectivity
PC Station:
802.11a/b/g/n dual-band Wi-Fi, Gigabit Ethernet
4x USB 3.0 Ports, 1 x USB 2.0 Port, HDMI Out
3.5mm headphone & 3.5 mm mic sockets
3-in-1 memory card slot
Optional DVB-T, Hybrid DVB-T or Hybrid DTMB tuner
Bluetooth 4.0
Tablet
802.11a/b/g/n dual-band Wi-Fi
1x Mini-USB 2.0 port
3.5mm headphone / mic socket
MicroSD Card slot
Docking port
Bluetooth 3.0 + EDR
Battery
38W Li-ion
Size
PC Station: 267 x 466 x 162mm
Tablet: 294 x 466 x 18mm
Weight
PC Station: 4.1 Kg
Tablet: 2.4 Kg
[/table]