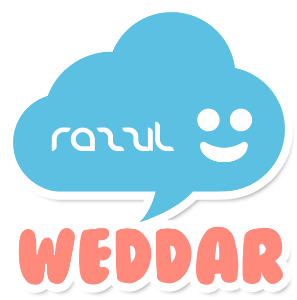 I generally not prefer any weather widget for my phone as HTC Sense weather widget doing decent job. But today I found interesting weather app. i.e. Weddar. The people powered weather service for the People. Weddar is a location-based weather service run by you. You have real people reporting on how the weather feels, not machines, bringing a personal touch to weather services.
This weather service is not run by Machine but it is powered by real human beings. Weddar users report the weather how they're feeling and that temperature will shown on Map. And you can also contribute location-based weather reports from where you are, just by clicking on one of the nine color clouds. You have to choose whether it's rainy, cloudy, windy or snowy and tell the app 'how it feels" outside from the given clouds. You can earn points by reporting weather just like foursquare. Weddar also has social integration i.e. you can share weather with Twitter and Facebook friends.
The app has 4 tabs 'Check', 'Report', 'Profile' and 'Leaderboard'.
In 'Check' tab, user get immediate information about how people are feeling the weather anywhere in the world, request users, view statistics and search the location you want to view the location.
In 'Report' tab, user can report weather from matrix of 9 Weddar clouds.
In 'Profile' tab, user can see person information like how many reports you've made, the points you have and the Weddar Reporters you follow.
In 'Leaderboard' tab, user can find out who are the top contributors in Weddar.
Features:
Weather reports done by real people
Location-based reporting
Weather Requests
Social sharing
This app runs on Android 1.6 (or higher) and available freely on Android market.