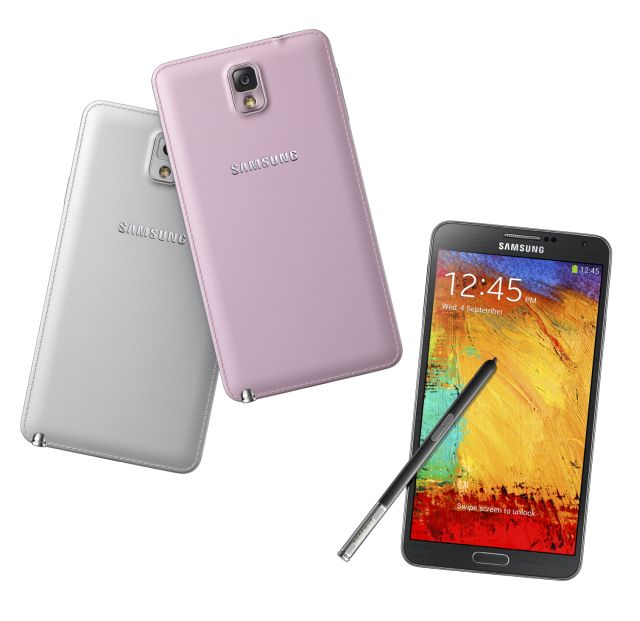 Samsung Mobile introduced next phablet version of its Note series, the Samsung Galaxy Note 3. The Galaxy Note 3 comes with a wider 5.7-inch AMOLED display with 1920 x 1080 resolution, 3200 mAh Battery, 2.3 GHz Quad-Core Processor or 1.9 GHz Octa Core Processor (varies by markets), 3 GB of RAM and the device runs on Android 4.3 Jelly Bean.
The Galaxy Note 3 is equipped with a 13 MP rear camera with Smarty Stabilization and high CRI LED flash. With 13 MP camera, you can record 1080p HD videos at 60 FPS. Other features of Note 3 camera include Dual Camera (same like S4), slow motion HD video at 120 fps, UHD at 30 fps and Camera mode such as Drama Shot, Sound & Shot, Animated Photo, Eraser, Best Photo, Best Face, Beauty Face, HDR (High Dynamic Range), Panorama, Sports, Golf, Surround shot, the Live effect.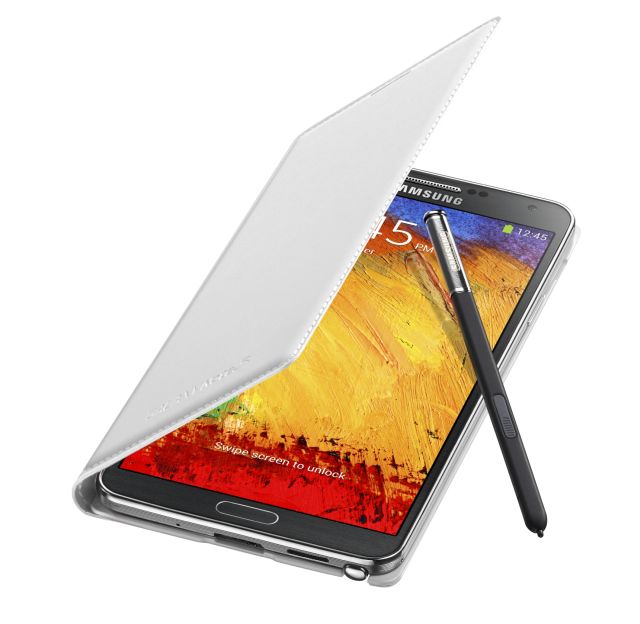 Samsung finally moved on from cheap plastic, Galaxy Note 3 delivers premium look and feel thanks to textured leather back cover.
Samsung reinvents Note S Pen, A simple click on the S Pen button while hover over the screen brings Air Command on the screen. Air Command is a palette of five features that can start from anywhere on the phone. The Air Command feature provides access to the following key functions:
Action Memo allows users to handwrite a note, and automatically execute a function or convert that handwritten information into formatted content. Action Memo can instantly initiate a call, add to contacts, look up an address on a map, search the web, save a task to a to-do list, and more.
Scrapbook enables users to organize or track down content and information from various sources including the web, YouTube and Gallery in one place so that users can easily look back at the collected content all at once. When consumers save content for future use, Scrapbook also collects source material or URLs allowing them to easily refer back to the original source.
The Screen Write feature captures the full screen image of the current page on the device and allows users to write comments or additional information onto the captured image.
S Finder allows users to expansively search for content on their device regardless of the type. By putting in keywords or filters such as date, location, and content type, users can search related documents, events, communication threads, and even the Help page – all in one place. In addition, users can also search for hand-written content in their Notes and memo applications, as well as symbols and formulas.
Pen Window allows users to use the S Pen not only for drawing sketches or writing notes, but now also for opening a small application window for a true multitasking experience. Simply by drawing a window of any size, anywhere on the screen, users can easily and quickly open another application window, such as YouTube, calculator or Browser without pausing the current activity on the screen.
Samsung Galaxy Gear Smartwatch, Watch can make calls and take pictures
Samsung Note 3 comes with KNOW the enhanced privacy and security protection from Samsung. The KNOW is integrated at system level and can protect your phone against Malware and phishing attack as well as hacking attempts. User can also disable the phone, if they lost the phone.
Hands-on Video:
Samsung Galaxy Note 3 will be available in 32 GB and 64 GB internal storage with an additional MicroSD card slot. The Note 3 is available in three colors: White, Black and pink and it will be available from September 25 in more than 140 countries including India.
Specifications:
[table class="blue"]
Network
2.5G, 3G and 4G LTE
CPU
LTE: 2.3 GHz Snapdragon S800 Quad-Core Processor
3G: 1.9 GHz Octa Core Processor (India will get this)
Display
5.7-inch Full HD Super AMOLED with 1920 x 1080 resolution
OS
Android 4.3 Jelly Bean
Camera
Rear: 13 MP BSI Sensor, Smart Stabilization, LED Flash & Zero Shutter lag
Front: 2 MP, Full HD recording at 30 FPS
1080p HD Recording @ 60 FPS
Audio
Ultra High Quality Audio (~192KHz, 24 bit) support
Connectivity
WiFi 802.11 a/b/g/n/

ac

(HT80)
GPS / GLONASS
NFC,  Bluetooth v 4.0 (LE)
IR LED (Remote Control), MHL 2.0
Sensor
Gesture, Accelerometer, Geo-magnetic, Gyroscope, RGB Proximity, Barometer, Temperature and Humidity, Hall Sensor
Memory
RAM: 3GB
Internal Storage: 32/64 GB
External Storage: up to 64 GB
Dimension
151.2 x 79.2 x 8.3 mm
Weight
168g
Battery
3200

mAh
[table]