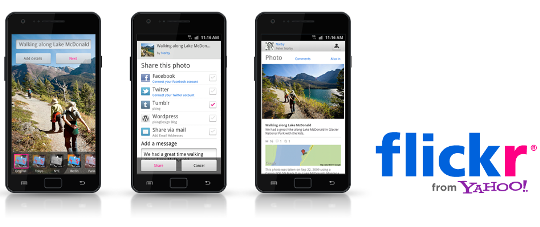 The popular photo sharing site Flickr has released app for Android smartphones. App lets you take photos, enhance them with filters (similar like Instagram and molome), and quickly send to Flickr, Facebook, Twitter, Tumblr and more. The app is simple to use, to get access to the app you have to sign in with your Flickr username and photos. After successful authentication you can browser your friend activity, profile and contacts from tab menu. You can stay up to date with the latest comments and activity on your photos and take advantage of gorgeous full screen browsing and slideshows.
App comes with in-app camera from that you can capture high resolution photos and enhance with custom filters, at the same time you can add details about your photos. Once done, Simultaneously upload your photos to Flickr and safely share them with your friends on Facebook, Twitter, Tumblr, via email, blogs and more, all straight from the app.
Features:
[custom_list="check"]
Share photos only with the people you want to with easy privacy settings.
Full screen browsing and slideshows for your photos, your contacts photos or any of the public photos from the global Flickr community.
Share the story behind your photo with titles, descriptions, comments and tags.
Keep your track of where you took your photo by keeping your location data automatically through geotagging.
[/custom_list]
With this app, you also get access to powerful online organizational tools, groups, fun photo apps, and a community of over 60 million members. That's a whole lotta photo sharing unleashed in one app!
Download Flickr for Android