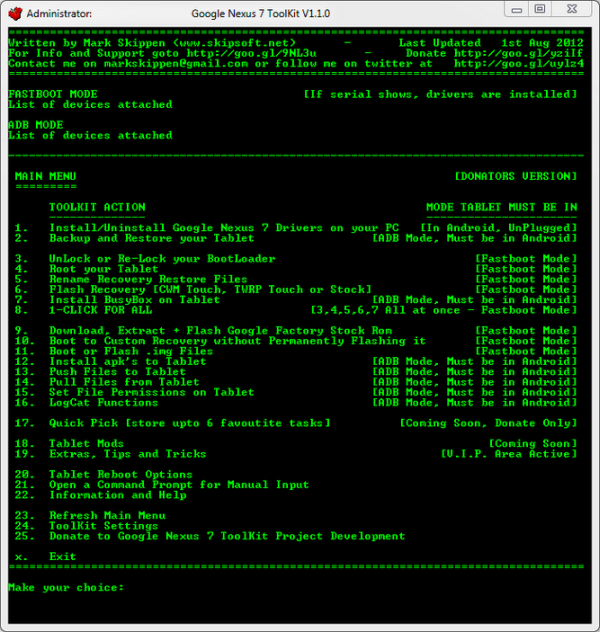 Nexus 7 Toolkit is All-in-one toolkits that allow you to perform different activities such as rooting, unlocking the bootloader, install custom recoveries, install drivers and much more on your Nexus 7.
The Toolkit is for Newbies users who are new in Android hacking and want to hack their Nexus 7. From Toolkit, anyone can root and install custom recoveries in Nexus 7.
Functions of Google Nexus 7 Toolkit:
Install correct adb/fastboot drivers automatically on Windows xp/vista/7 32bit+64bit
Backup/Restore a single package or all apps, user data and Internal Storage
Backup your /data/media (virtual SD Card) to your PC for a Full Safe backup of data
Unlock/Re-Lock your Bootloader
Root Stock Jelly Bean builds (upto 4.1.1 JRO03D)
1-Click For All to Unlock, Root, Rename the Restore File and CWM
Perform a FULL NANDROID Backup of your system (Boot, Cache, Data, Recovery and System) via adb and save in Custom Recovery format on your PC which can be Restored via CWM Recovery
Pull /data and /system folders, compress to a .tar file and save to your PC
Dump selected Phone Partitions, compress to a .zip file with md5 and save to your PC
Install BusyBox on your phone
Mods section to automatically perform certain tasks on your phone
Download Google Stock Image directly to correct Toolkit folder for extracting and flashing (no need to move it manually anymore)
Flash Google Stock Image to phone
Flash Stock Recovery, CWM Touch Recovery or TWRP Touch Recovery
Rename the Recovery Restore File present on some Stock Roms
Boot into CWM Touch Recovery or TWRP Touch Recovery without Flashing it
Boot or Flash .img Files directly from your PC
Install a single apk or multiple apk's to your phone
Push Files from your PC to your phone
Pull Files from your phone to your PC
Set Files Permissions on your phone
Reboot Phone to Fastboot Mode or Android from fastboot mode
Reboot Phone to Fastboot Mode, Recovery, Android or Download Mode from adb mode
The Nexus 7 Toolkit is compatible with Windows PC only and you can install this as a normal software.
Download Google Nexus 7 Toolkit
[via]