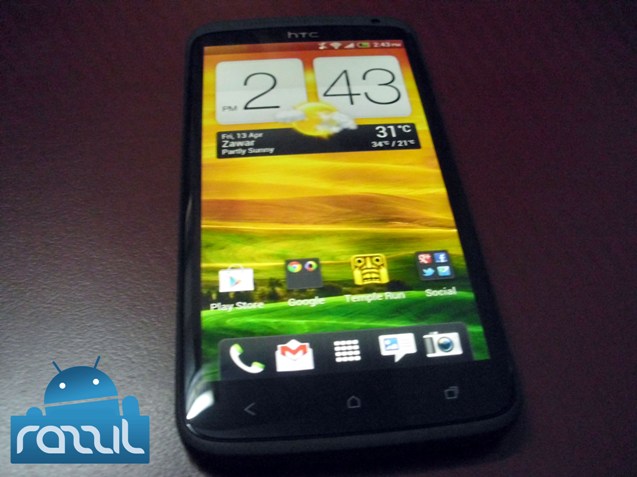 I'm waiting for this phone since it was announced at the MWC 2012 by HTC. Yesterday the first quad-core Android phone in India landed on my desk. HTC One X is the first Quad-Core phone running on Android 4.0 Ice Cream Sandwich and its big costly too in India. HTC has set the MRP of the HTC One X at Rs. 42,999 and a Best price at Rs. 37,899. Luckily I got the phone at Rs. 36,095 from Saholic.com
HTC One X has a 1.5 GHz NVidia Tegra 3 Quad-core processor, 4.7-inch Super LCD2 touchscreen, 8 MP camera with 1080p Video recording and is powered by Android 4.0.3 Ice Cream Sandwich.
In India, HTC One X comes bundle with Airtel offers such as 500 MB data for 3 months, 200 min of Mobile TV and 100 full songs. HTC One X box contains 1 handset, EU AC Adapter, USB Sync Cable, Headset, Safety and Regulatory guide, Quick start guide, Limited warranty card and customer care card. I've seen great packaging of One X in some countries but here in India it has simple packaging like any other phones.
Hardware & Display
HTC One X comes with minimalist body design. The phone is made up with lightweight polycarbonate at back and Gorilla Glass at front with smoothly rounded piano-gloss sidewalls and curves make its sexy and easy to hold on our palm. One thing I like to share with you that, you can't remove battery from the phone. The phone is thin and light in weight and the curve make it more stylish. The phone comes with three buttons: Back(on left), Menu( in middle) and Recent Apps button(on Right). It has also 4th button which was software button visible only in few apps.
The Super LCD2 touch screen is bright, clear and sharp. The display is very large and brightness is too good that I can use the phone directly in the sun light. The Sharpness of the text is very helpful specially when surfing the web. It has AMOLED display, so viewing angles are quite good.
OS & UI
HTC One X is runs on Android 4.0.3 and HTC Sense 4.0 UI on it. Here I like to talk more about Sense 4.0 UI. HTC has merged ICS and Sense in a way that it feels effortless and more enjoyable than Galaxy nexus Vanilla UI. Unlike its previous version, Sense 4.0 is light and cuts down many crap animations. You can scroll the screen by swiping left-right and it gives you 3D cube animation. HTC Sense 4.0 comes with army of widgets and but good things is that adding the widget on the screen is very easy and you can put many apps in a folder by dragging apps on each other. I'll cover the Sense 4.0 topic in upcoming posts.
Apps
The usual of Android apps like Gmail, Google Talk, Maps and Play Market are present on One X. But besides this HTC comes up with its own apps and many apps are target for Indian users only.
By Default following apps comes preinstalled on One X:
Twitter & Facebook also preinstalled in One X. You just need to update these apps (If update available).
7digital: You can server over 18 million songs, discover, buy, sync and listen to music anywhere. It also gives you access to your 7digital music collection on the web so we can wirelessly sync your purchases. Well for me its crapware I don't such apps as I can purchase the music from Google music itself.
PDFViewer: With PDFViewer you can read PDF files stored on your phone as well as on online Storage. We can read PDF files stored on Dropbox and SkyDrive.
Polaris Office: The app allows you to read Word, Excel and PowerPoint files. We can also read files from Online Storage such as Dropbox and SkyDrive.
Saavn: Very useful apps for Indian users. With Saavn app, Users can listen Bollywood, Tamil and Punjabi Tracks online on One X. It has largest library of Bollywood and Indian songs with smartest search features. I always prefer to listen music on Saavn.
SoundHound: SoundHound is used to Identify and search any music. SoundHound is similar to Shazam.
TuneIn Radio: This app allow you to listen live local and global radio from One X. TuneIn offers over 50,000 stations and 1.2 million on-demand programs for you to choose from.
Beats Audio
HTC One X features Beats Audio but unfortunately you won't get Beats Audio Headphones with the box. Sound is still great but for full Beats Audio experience you've to buy right headphones for it. Good thing is that SoundHound, 7digital and Tunein Radio are integrated with Music Player.
Initial Observation:
You don't have access to battery.
The One X has 32 GB of Memory but only 26 GB is available for users. There is no microSD card slot.
No heating problem occur while playing games.
I didn't get 25 GB of Space yet.
Build Quality is superb and has premium feel.
The phone has big 4.7-inch display but you can comfortable use the phone with one hand including playing games like Temple Run and chatting on IM.
You need micro SIM for One X and SIM tray can be extracted using SIM eject tool which comes with SIM Instruction manual.
HTC One X (Indian Version) Unboxing Video:
[iframe: width="640″ height="355″ src="http://www.youtube.com/embed/jPAeWBvkP5g?rel=0″ frameborder="0″ allowfullscreen]
This observation is based on few hours of Hands on, Next week I'll cover the complete review of HTC One X. Bookmark the Razzil.com if you want to explore more about HTC One X – The Quad-Core Beast