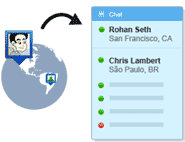 Google Latitude is best way to share real time location with your friends and family. Now you can also use Google Talk Location Status to share your latitude location as a status message which will be visible to your chat friends. Google Talk use most recently updated city level location provided by Google Latitude. This tutorial guide you how to activate Google Talk location status.
How to Enable Google Talk Location Status
First you need mobile which support Google latitude.
Install Google Latitude on you phone and enable location sharing.
In Google Talk Location Status box, Click "Enable" and hit "Save" button to activate Google Talk Location status on  your account.
In Google Talk, set you status to "loc:on".
It takes 30 seconds to activate your location status.
Once you've enabled the location status for the first time, you can select any past location statuses from status message drop-down menu to turn on the location status again.
How to Disable Google Talk Location Status
Change your status or Clear your status message. It'll temporarily stop sharing your location as your status message.
Disable the app by going to http://www.google.com/latitude/apps/status
Comment out if you facing some difficulties.