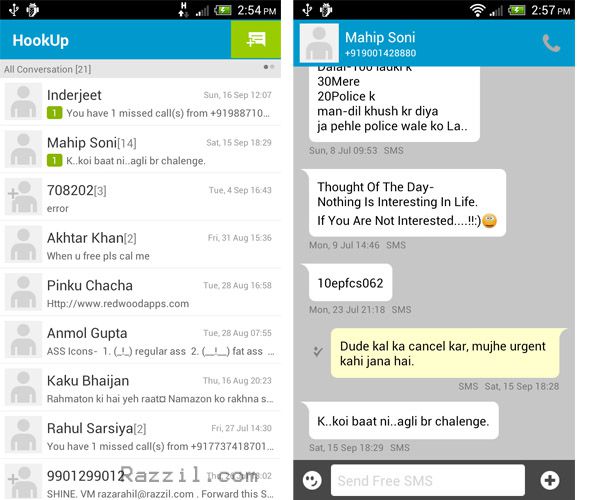 Micromax Mobiles launched 'HookUp' new Messaging application for Android phones. With HookUp, users can exchange pictures, music, videos, send & receive messages. Users can send the messages to HookUp as well as non-HookUp friends. Basically it's combination of text messaging service and IM chat.
With Contact Management, you can send invites to new contact or even choose to keep away from unwanted ones. HookUp also support group chat.
HookUp also comes with robust features such as
Doodle pad: Draw and send images
Location sharing: Share location with friends
File sharing: Share images, audio & video files
HookUp is Currently available on following handsets A57 Ninja 3.5, A87 Ninja 4.0, Q34, X335 and soon will available to all Android phones. The app comes preloaded on Micromax Smarty A25. HookUp is free application and need data connection . You can send 4000 messages in a month.
Features:
Single Entry Point: SMS and IM-Chat
Easy contact list management
Easy invite new contact
SPAM/Block list
Rich sharing feature
Image/Photo, Video, Audio, Doodle, Contact, Location
Best-in-class Performance
Less Memory Consumption
Less Battery / Data Usage Consumption
Faster Push Speed
Less Bandwidth